Hearing loss is the most common workplace injury leaving over 22 million workers exposed to hazardous noise environments every year. Losing your hearing is oftentimes irreversible so proper protection in the workplace is required. OSHA, The Occupational Safety and Health Administration has set a list of standards employers must follow to protect the hearing of their employees.
This article explores the purpose of OSHA as it pertains to hearing loss, how to properly protect employee's hearing, and examples of hearing protection devices.
Table of Contents
About OSHA
OSHA or the Occupational Safety and Health Act of 1970 was created to prevent workers from serious injury or even death while working. The law requires that employers must provide safe working conditions for their employees. OSHA sets and enforces workplace safety, health standards, information, training, and assistance to companies and their employees.
The Occupational Safety and Health Act covers private-sector workers and employers in all 50 states. State and local government workers as well as Federal Government workers are not covered by OSHA but do have some exceptions. State and Local Government workers can have protection through the OSH Act if they are employed in states that are OSHA approved state programs. Those states include Illinois, New Jersey, New York, Connecticut, and the US territory the Virgin Islands.
Federal Government Workers need to have safety and health programs that follow the same standards as private employers. OSHA will not fine federal governments for not following safety standards but will routinely monitor agencies and respond to complaints made by workers. The only Federal Government agency that OSHA does cover is the United States Postal Service (USPS).
If you are self-employed, are an immediate family member of farm employers who does not hire outside employees and workers who are protected by other Federal agencies including Mine Safety and Health Admin, Coast Guard, and the FAA you are NOT covered by the OSHA Act.
OSHA Standards are a list of rules describing how employers must use to keep their employees safe and from hazard. There are three types of standards for OSHA including ones for construction workers, maritime and the general industry. The general industry standards are rules that apply to most job sites. The standards limit how much hazardous chemicals people can be exposed to, require safe practices and equipment and require employees to keep a record of all workplace injuries and illnesses.
According to osha.gov, the employer responsibilities are too,
Provide a workplace free from serious recognized hazards and comply with standards, rules, and regulations issued under the OSHA Act.
Examine workplace conditions to make sure they conform to applicable

OSHA standards.
Make sure employees have and use safe tools and equipment and properly maintain this equipment.
Use color codes, posters, labels or signs to warn employees of potential hazards.
Establish or update operating procedures and communicate them so that employees follow safety and health requirements.
Employers must provide safety training in a language and vocabulary workers can understand.
Employers with hazardous chemicals in the workplace must develop and implement a written hazard communication program and train employees on the hazards they are exposed to and proper precautions
Provide medical examinations and training when required by

OSHA standards.
Report to the nearest

OSHA office

all work-related fatalities within 8 hours, and all work-related inpatient hospitalizations, all amputations and all losses of an eye within 24 hours.
Keep records

of work-related injuries and illnesses. (Note: Employers with 10 or fewer employees and employers in certain low-hazard industries are exempt from this requirement)
Not discriminate against employees who exercise their rights under the Act.
For more information on employer responsibilities visit the OSHA website.
Hearing Protection and OSHA
Working in loud environments every day without proper hearing protection is proven to significantly damage your ability to hear. OSHA has set rules in place for employers to follow to protect the hearing of employees.
Standard number 1910.95 titled Occupational Noise Exposure, states "the employer shall administrator a continuing, effective hearing conservation program... whenever employee noise exposures equal or exceed an 8-hour time-weighted average sound level of 85 decibels."
The standard also states that an audio-metric test should be performed and made available to all employees whose noise exposure equals or exceeds an 8-hour time average of 85 decibels. This test should be provided free of charge and be performed by a licensed or certified audiologist.
Aside from having the audio-metric test performed, proper hearing protectors should be made available. Employers should always be sure their workers are wearing the right hearing protection and ensure employees get proper fitting and use them correctly.
Lastly, these hearing protectors MUST suppress noise exposure to an 8-hour time-weighted average of 90 decibels to meet OSHA standards.
Surviving the Occupational Health and Safety Specialists
An Occupational Health and Safety Specialist analyze work environments and procedures and ensure workplaces are up to safety, health and environmental codes. If you work in industries like construction, oil and gas, health care, maritime or any other industry where hazards can happen, you've probably seen one of these Health and Safety Specialists before.
These specialists are employed by agencies like OSHA, Occupational Safety and Health Administration or the National Institute for Occupational Safety and Health. The job duties involve identifying hazards in the workplace, collecting samples of toxic material for analysis, inspect work environments, equipment and practices, design workplace processes to help protect workers from hazardous work conditions, and conduct training for emergency preparedness and various other topics.
OSHA can show up at random for an on-site inspection but they also can conduct phone and email investigations too. As an employer, it is your responsibility to contact OSHA within 8 hours in the case of an employee fatality or 3 or more employees are hospitalized.
Walk-Around Inspection
The purpose of this type of inspection is to identify any safety or health hazards in the work environment. They are looking to see if they can eliminate any potential personal exposure to hazard. This helps keep your employees as safe as possible. During the walk-around inspection, samples and photographs or videos may be taken. An interview between the CSHO and employees is essential to completing an effective inspection. This allows your employees an opportunity to state any hazardous conditions they have seen.
If your company's work environment is not following OSHA standards or you fail to alert OSHA about a workplace injury, you may be subject to a citation, fine, or penalty. If you do happen to get fines or citations they will not be immediately issued.
How can I protect my employees from hearing loss?
Your employees shouldn't experience hearing loss on the job. If your employees are constantly around loud noises every day, proper protocol against preventing hearing damage should be taken. Ensure your employees are wearing proper noise-canceling headsets and earplugs. Industries that should be concerned about hearing loss are construction, concert security, machinery, manufacturing and any type of job that puts you around loud environments.
As an employer, you should be testing your employees hearing multiple times a year, many construction unions already have this in place. You can also limit the amount of time an employee is around a loud environment.
Ensure your employees are wearing proper noise-canceling headsets or earplugs. Many communication companies manufacture and sell headsets that protect hearing.
Using a two-way radio shouldn't mean you can't wear noise-canceling headsets. Take firefighters, for example, they are around loud engines and sirens every day. They still need to be able to communicate with others to fight fires so having a two-way radio is necessary.
The noise-canceling headsets have many features that allow you to still communicate and protect your hearing at the same time. The headset has a Noise Reduction Rating of 23Db. Behind the head headbands, make these headsets compatible with helmets. They also come with an in-line PTT and noise-canceling boom microphone, making it easier to talk to others on your channel. The boom microphone is noise-canceling meaning if you're in a loud environment, the receiving line can still understand what you are saying.
Aside from firefighters, airport personnel, race teams, plant engineers, construction, and manufacturing can also benefit from using these headsets to protect their hearing. These headsets keep harmful noise out ultimately protecting your hearing when around loud environments during work.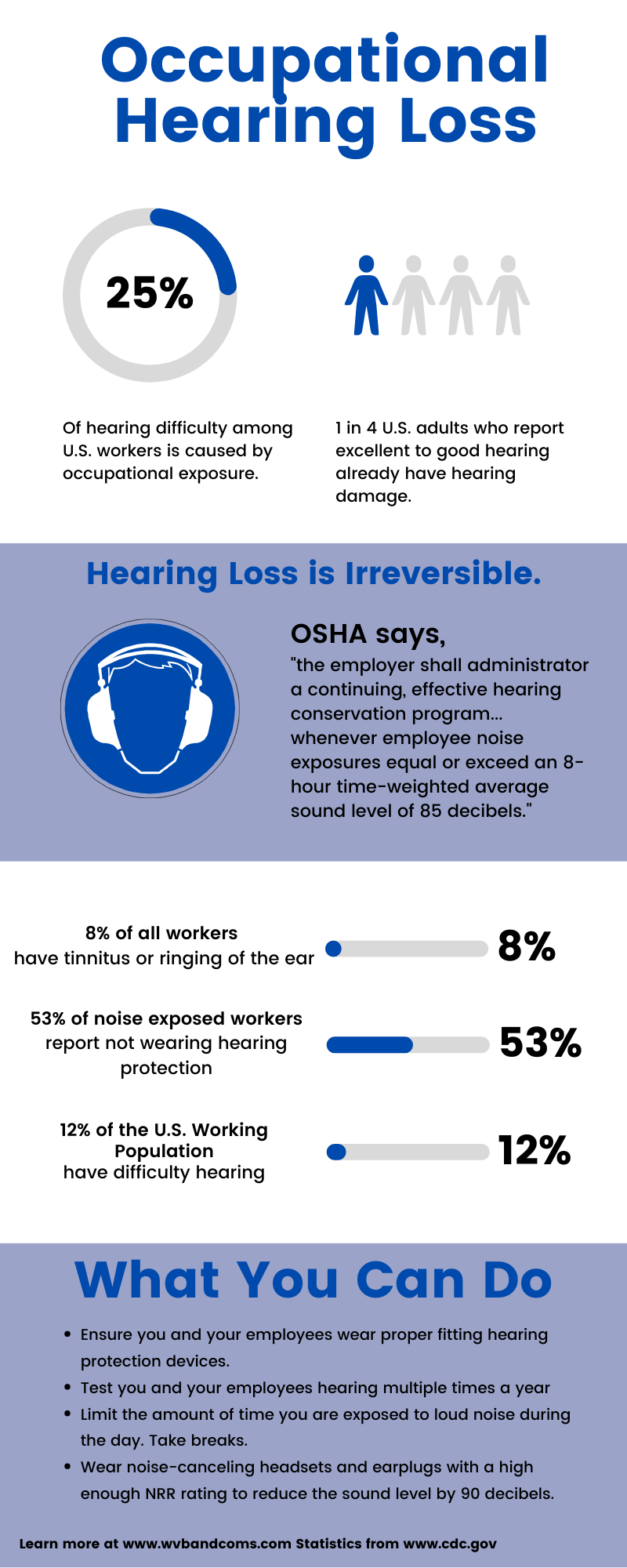 Share this Image On Your Site
Waveband Communications offers noise canceling headsets that are independently tested to comply with OSHA requirements. By offering headsets that are ANSI certified at a 23DB NRR rating you have peace of mind. It important to have assurance your employees are protected against loud noises that might cause permanent hearing damage. These noise-canceling headsets are widely used with airport personnel and firefighters, and production facilities worldwide. To shop our headsets compatible with two-way radios, find your radio model below.
Have specific questions? Call us at 800-806-1076.
Are you protecting your hearing? Let us know how in the comment section below.
About the Author
TAYLOR THOMAS

is a Marketing Manager at Waveband Communications. With her experience in critical communications, she helped public safety clients enhance their team communication through the help of two-way radio accessories. Read more articles by Taylor Thomas. https://blog.wvbandcoms.com/author/taylor-thomas