Push to talk over cellular (PoC) turns any cell phone into a two-way radio providing a new and enhanced way to communicate. These PoC apps give companies or individuals the opportunity to talk wherever you are in the country. These apps are available for anyone with a cell phone and can be downloaded in the app store and google play.
All apps have a free option, mainly used by individuals communicating with friends and a subscription based option for companies needing to communicate with their employees.
PoC apps have the ability to record conversations and can be played back at a later time, if needed. The talk groups are a good option to have for your employees because it puts everyone in a single network so you can easily find whomever you need. This limits time with a tradition cell phone and eliminates unlocking the cell phone, finding the contact in your phone and waiting for an answer. PoC apps allow you to instantly connect with the team and get information in real time.
Push to talk is a better option than a regular GMRS or FRS radio. With push to talk, you are able to talk to anyone no matter where they are. With walkie talkies, you normally have a small range available to talk. This can leave a gap in communication between employees across different site locations. Also, start up costs for these systems can get expensive with also paying for maintenance and care.
These apps are an improvement of the traditional walkie-talkie and the ability to instantly connect with your team. We will review the different pricing and features of popular push to talk apps including,
Zello

Voxer

ES Chat

Zinc

Wave on Cloud
Zello
Zello is a popular app that includes public access as well as a work option (ZelloWork).
Zellos features include,
Unlimited uses

Public channels including police scanner, open chat and more.

ZelloWork gives fast reliable push-to-talk for teams (subscription needed)

ZelloWork can be tailored to fit your business

ZelloWork has advanced privacy meaning no one can listen in on conversations.

Crystal clear voice in any environment

Emergency button
The cost for zello depends on personal use and work environments
Zello for personal use is free for android and IPhone

ZelloWork is $8.00 a month per user per subscription with some additional fees.
Voxer
Features
For business and individuals

Real time voice messaging allows you to hear messages people speak and can be listened to later.

Available on iPhone, Android and online

Ability to send and receive texts, photos and videos

Own private network for business accounts

500 individuals contracts or teams

Flexible control

End to end encryption

Lock screen push to talk capability
Price
Free in App Store and Google Play

Business: $8.33 a user per month per subscription
ES Chat
Features
High definition voice encrypted

Group messaging and PTT calls

LMR (land mobile radio) integration

GPS location tracking

FirstNet certified

Emergency calls
Cost
$4.99 per user per month

10% off discount if paid annually for $4.49 per user per month
Zinc
Features
Easily message team or start a group message

Video, voice, chat, push to talk, hands free capabilities

Receive live audio using push to talk

Live video or conference calls right on your phone

Corporate news can be found via Zinc Broadcasts
Cost
Free for iPhone and Android

Free for desktop on zinc-app.com
WAVE OnCloud PTT



Features
Group or private PTT


Do not disturb option. When off the clock your app is too

Eliminates background noise

See history of PTT conversations

get alerts directly if a team member of your team is trying to reach you

Text a message and send a photo or video

View where members of your talk group are on a map

Share your location

Wave Two-Way Radio TLK 100 available

4G LTE

Long lasting battery

Location tracking

Slim design
Price
Phone app is $8.00 per month per license

TLK 100 is $35 per month per license

Free 30-day trial
Two-Way Radio Accessories Compatible with Apps
Accessories that are common with two-way radios can also be made compatible with these PoC apps. Waveband Communications sells Bluetooth speaker microphones and behind-the-head headsets. These options are perfect for a more hands free approach to communicating with a team. These accessories pair with the app via bluetooth.
Wireless Bluetooth Speaker Microphone: WV-BTH-510-R5
Wireless Bluetooth Dual Muff Headset: WV-BTH-900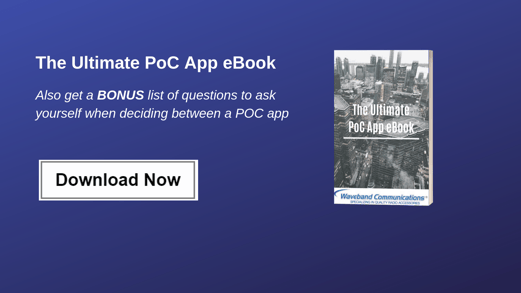 About the Author
TAYLOR THOMAS

is a Marketing Manager at Waveband Communications. With her experience in critical communications, she helped public safety clients enhance their team communication through the help of two-way radio accessories. Read more articles by Taylor Thomas. https://blog.wvbandcoms.com/author/taylor-thomas