Here at Waveband Communications, we hear your questions and want to help the best we can. We have compiled a list of commonly asked questions and provided detailed solution to help you solve them.
If your question can not be found on the blog, visit our Frequently Asked Questions page for more details.
How do I find Waveband Products that are compatible with my two-way radio?
We've designed our website to provide customers with the most simple and straightforward process in finding compatible accessories for their two-way radios. First, hover over Shop By Radio and you'll see a drop down of all the brands we carry. Select your two-way radio brand, and then choose which model you're looking to purchase accessories for. This can also be found with the filters on the side of the page. Below you'll find a list of two-way radio brands our accessories are compatible with.
For all above two-way radio models, we carry a wide range of accessories to enhance your communication & surveillance capabilities. Whether you need batteries, chargers, headsets, speaker mics, antennas, ear plugs, surveillance kits, or cases/holsters, trust Waveband Communications to deliver radio accessories with seamless compatibility, top performance, all at an unbeatable price!
Where can I find NSN's for Waveband Communications Inc. part numbers?
We currently have two National Stock Numbers associated with Waveband Communications products.
WV1-10432 (NSN: 5965-01-619-5396)

EP9857 (NSN: 6140-01-587-6279)
For more information on NSN's or helping us get more products an NSN, click here.
I need to purchase GSA approved products - Which Waveband products are GSA Certified?
Waveband Communications is now able to provide a wide variety of communications products on GSA to simplify the acquisition process. In order to obtain a copy of our comprehensive GSA catalog, GSA authorized users should contact our government sales department at 800-806-1076, or by emailing sales@wvbandcoms.com
To view our 1,000+ GSA approved products, simply search "Waveband Communications" on the GSA e-library home page, or click here
"I can't hear out of my earpiece" or "my earpiece has decreased in volume"
"I can't hear from my earpiece - is it broken?" Before spending the money to replace your earpiece, you'll want to determine if it is the source of your problem. To do this, disconnect the earphone and test whether you can hear incoming calls through the speaker. Make sure the volume is turned up. Sometimes, the sound may be blocked by a kink or debris in the acoustic tube, in which case you should clean your earpiece and test again. If you are still encountering an issue after cleaning & testing, you may need to order a replacement.
"My earpiece has decreased in volume compared to when I first purchased my earpiece" Over time, the acoustic tube can become blocked by dirt, sweat, earwax, and moisture. This may also cause the earpiece to turn brown or yellow in color. You should clean your earpiece regularly to prevent buildup, which will extend the earpiece's lifespan and performance. A hole in the acoustic tube may also cause this problem, which will require a replacement to remedy.
How to clean acoustic tube:
Remove the Acoustic Tube from the clothing clip assembly by rotating the twist connector.

Inspect the tube for any blockages or foreign matter inside of the tube

Disconnect the Earbud, Twist Connector and PVC Elbow from the Acoustic Tube. Inspect

all of these parts for any blockages

Completely submerge the Earbud, Twist Connector, PVC Elbow, and Acoustic Tube in

warm (not hot) water for 10-15 minutes. Do not use any soap, detergent, cleanser, or any

other type of cleaning chemicals

Reassemble the earphone by inserting the PVC Elbow and Twist Connect respectively into

the top and bottom of the Acoustic Tube. Insert the Earbud onto the open end of the PVC

Elbow

Insert the straw from a can of compressed air into the hole at one end of the earphone and

blow any debris or water out of the Acoustic Tube

Pat the outside of the Earphone dry with a clean towel

If the steps above did not solve your issue, then you may need to replace your acoustic tube
What are some ways to help my battery maintain good condition?
Most 2-way radios come with rechargeable batteries that may be used for many charging cycles before becoming exhausted. The battery's lifespan depends on many factors, but they last for about 18 to 20 months on average.
Primary & Secondary Batteries - Most portable 2-way radios (including Motorola models) will operate with these batteries. Primary batteries are NOT rechargeable. They rely on a one-time chemical reaction to produce energy. Secondary batteries are rechargeable. They also rely on a chemical reaction, but one that can be recharged many times before exhaustion. NiCad & Nickel Metal Hydride are considered secondary batteries.
Nickel Metal Hydride (NiMH) batteries - These types are relatively new, and very similar to NiCad batteries regarding voltage production. These batteries tend to produce a longer lasting charge, however they usually have a shorter lifespan than NiCad batteries.
Nickel Cadmium (NiCad) Batteries - These batteries include two plates per cell, one Nickel and one Cadmium. These two metals provide the option to charge and recharge batteries for a longer lifespan.
Temperature can end up having a massive impact on the effectiveness of your 2-way radio battery. Most batteries perform best when kept at room temperature, and may experience depletion if exposed to extreme heat or cold while charging. If they charge in a hot environment, batteries may last 25% less with a full charge. Moreover, if charged in a very cold environment, they could lose over 50% of their charging capacity.
"Memory Effect" is a very common issue, and many aren't even aware of it in the first place. For example, if your battery goes down to 25% and you recharge it regularly at that point, the battery may start to only accept a 25% capacity. When this occurs, a battery that typically lasts 8 hours may suddenly drop down to 2 hours on a full charge. It is recommended that you use your entire battery up before charging to remain at peak performance life.
Disposal of NiCad and NiMH batteries is critically important because they are considered hazardous waste by the EPA, so it is imperative to throw them away properly to protect the environment. Contact your local Hazardous Waste Authority to find out where you can dispose of them in your area.
What do the LED lights mean on my two-way radio charger?
Our chargers are designed to show an LED indication of the charging status & fault conditions:
Solid Orange: Performing battery diagnostics
Solid Red: Battery charging, less than 80% capacity
Flashing Green: Battery charging, over 80%
Solid Green: Battery fully charged
If you observe a flashing red LED indicator, one of three things may be occurring:
Flashing Red 1 Time: Charge is complete, but battery was under charged
Flashing Red 2 Times: Battery contact is open & you need to check battery compatibility
Flashing Red 3 Times: Over current conditions caused by a short circuit from the battery
It is important for the battery that you solve these issues to save the life & capabilities for your radio
How do I take advantage of the Lowest Price Guarantee?
Waveband Communications offers a Lowest Price Guarantee to ensure that you pay the lowest price for products of comparable quality. Before you buy, forward us an official quote for products of similar or higher quality from any Original Equipment Manufacturer (OEM), and Waveband Communications will match the quoted price!
Simply fax us at 866-211-3422 or e-mail us at sales@wvbandcoms.com for a quote request review within 48 hours. All lowest price guarantee submissions are subject to review. Waveband reserves the right, at its sole discretion, to approve or deny any submitted price match quotes based on the information provided.
I need 3 quotes to be able to buy. What do I do?
As a trusted source for top-quality communications products, we have developed a network of relationships with re-sellers across the United States. Below is a short list of authorized re-sellers of Waveband Communications products to provide you with a quote.
How do I return or exchange an item?
All products must meet the following conditions to be accepted as a return and qualify for a refund. Typically, refunds are issued within 2-4 weeks from receipt of your verified return:
All products must be in original packaging

No marks or writing on product/product packaging

Products must be in new & unused condition

Products with engraving cannot be returned
All returns must be processed within 30 days of the date you received your item(s) from www.wvbandcoms.com
Due to the nature of the products we sell, there is a 20% restocking fee applied to all returns. Exceptions may be made on a case by case basis.
Refunds will be issued to the same credit card used for the original purchase. Shipping & Handling costs are non-refundable. If you mail in your return, you will receive an e-mail confirmation. Please allow up to 10 days for the credit to be reflected in your account. Allow up to 2 billing cycles for the credit to appear on your credit card statement
Non-returnable items include:
Labor, delivery, and/or completed installation services

Radio repairs

Digital Content

Items damaged through customer use/abuse

Shipping charges
You may cancel your order anytime before the order is processed. Once the order is shipped, you will receive a shipping confirmation that contains tracking information via e-mail. Once a product is shipped, the Return & Exchange Policy applies. For all warranty exchange/repair requests, fill out the RMA Request Form on our website. We've included an example below: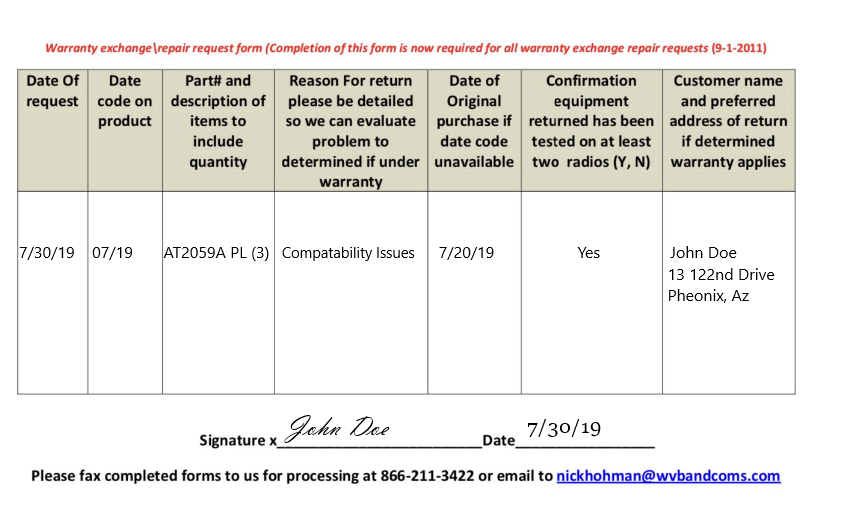 Have a question of your own? Comment below and we will be sure to answer it!